Could AI accelerate economic growth?
Most new technologies don't accelerate the pace of economic growth. But advanced AI might do this by massively increasing the research effort going into developing new technologies.
What will happen to economic growth once AI has made us all obsolete? Economists are often skeptical of big effects.
One reason they give is that new technologies typically don't accelerate economic growth. Instead, they typically cause a one-time gain in economic output, and then growth continues at its normal rate.
For example, Bryan Caplan, an econ prof at GMU, recently tweeted:
Tech moved 10x faster than I expected in the last year…

Economic effects will be modest & gradual. Even electricity took decades to make a huge difference…

What I doubt is that any one new tech will raise growth by even 1 percentage-point per year.
This dynamic has played out over the past 50 years. We developed computers and the internet, but economic growth didn't speed up, and if anything it got slower.
I think this is the right way to understand the economic impact of current AI. GPT-4 will raise productivity in many sectors as it is gradually adopted across the economy, but it won't permanently accelerate economic growth by itself.
But this doesn't mean it's impossible to ever accelerate economic growth. In fact, economic growth has become much faster over the past 2000 years. Over the last few decades, the global economy has grown at about ~3% per year. But around 1800 it grew more slowly, at about ~1% per year. And earlier in time growth was slower still, below 0.1% per year if you go back far enough.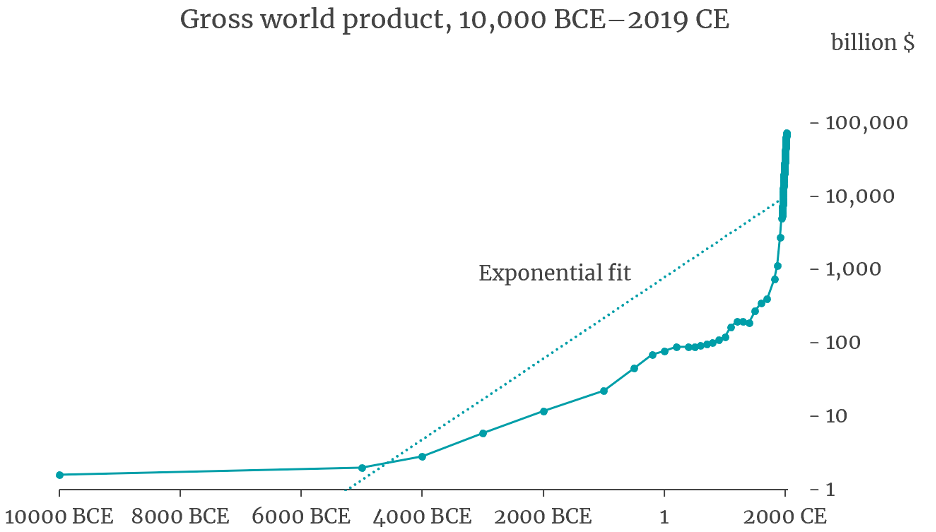 From David Roodman's Modeling the Human Trajectory. The solid line is historical economic growth from 10,000 BC to 2019. If the rate of growth were constant, this graph should look like a straight line. But it curves upwards, showing economic growth accelerating over time.
So, if new technologies don't ever really accelerate economic growth, why is growth so much higher today than it was 2000 years ago? The consensus view in economics is that modern growth is so fast because we put continual effort into innovation[1]. We deliberately invest in R&D to invent new technologies, we put effort into making our manufacturing processes more efficient, we design supply chains to efficiently distribute new technologies quickly across the economy, and so on.
The world is collectively putting more effort into innovation now compared to 2000 years ago for two main reasons: we have more people overall, and a larger fraction of those people are working on developing new technologies.
On the first point: The global population is about thirty times larger than it was 2000 years ago, so there are more people who can potentially come up with ideas for new technologies, and more people who can work to make them a reality.
On the second point: a larger fraction of the population today specializes in R&D for new technologies.

One big reason for this is better education — 2000 years ago almost nobody received an academic education; today, mass education means that a larger fraction of the population has the background skills needed to contribute to technology R&D.[2]
Another major reason is better institutions for encouraging and enabling innovation. For example, in the past you had to be independently wealthy to be an inventor, because you had to fund your own research. But today, investment markets and government grants will often finance promising ideas, so you can try to invent new technologies even if you couldn't fund all the research yourself.
Today around ~20 million people work in R&D worldwide.[3] Two thousand years ago the effort going into research was much smaller, I'd guess by a factor of 1000.[4] Economic growth is much faster today than it was 2000 years ago not because of any single new technology, but because we are putting in so much more effort into generating a steady stream of new innovations.
I think future AI might massively increase the world's innovation efforts again, and thereby accelerate economic growth. Rather than being "just one more technology", it might massively increase the pace at which humanity develops new technologies.
How much might future AI increase the world's innovation efforts?
As I discussed in a previous post, once we develop AI that is "expert human level" at AI research, it might not be long before we have AI that is way beyond human experts in all domains. That is, AI that is way better than the best humans at thinking of new ideas, designing experiments to test those ideas, building new technologies, running organizations, and navigating bureaucracies.[5]
What's more, because it takes so many more computer chips to train powerful AI than to run it, once we've trained these superhuman AIs we would potentially have enough computation to run them on billions of tasks in parallel.[6] There could be massive research organizations where AIs manage other AIs to conduct millions of research projects in parallel. And these AIs could innovate tirelessly day and night.[7]
As well as having superhuman intelligence, these AIs could think much more quickly than humans. ChatGPT Turbo can already write ~800 words per minute, whereas humans typically write about 40 words per minute. So AI can already write ~20X faster than humans. In just one day, each AI could potentially think as many thoughts as a human thinks in a month.[8]
My best guess is that AI this powerful would increase the world's innovative efforts by more than 100X. Perhaps, like before, this would significantly accelerate economic growth.
---